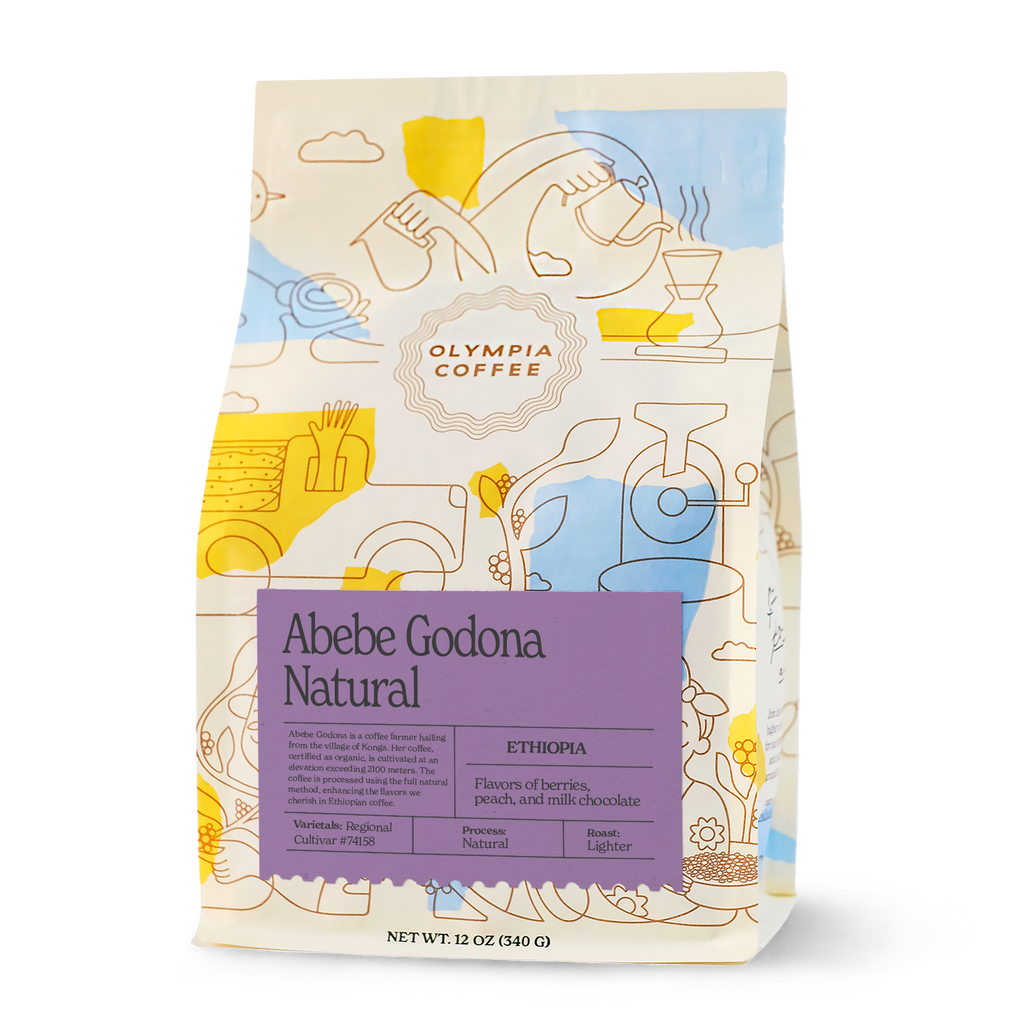 Ethiopia
Abebe Godona Natural
Flavors of berries, peach, and milk chocolate
Abebe Godona cultivates coffee in her village of Konga at elevations exceeding 2100 meters. Her certified-organic coffee is processed using the full natural method, enhancing the fruity flavors we cherish in Ethiopian coffee.
Light Roast: Agtron 66.7
The Agtron Scale: The Agtron scale ranges from 0 to 100, with 0 being the darkest and 100 being the lightest. In the coffee industry, the most common range for roasted coffee is typically between 25 (very dark) and 75 (very light).
0-30: Very dark roast
30-45: Dark roast -
45-55: Medium-dark roast
55-65: Medium roast
65-75: Light roast
75-100: Very light roast
At Olympia Coffee, we take pride in our commitment to Fair For All, our rigorous standard for green coffee sourcing. Our approach ensures that all parties involved in our coffee production, including farmers, staff, and customers, benefit from our ethical practices. As a testament to our dedication, we are third-party certified for our sourcing practices and employee compensation, which meet Living Wage standards. You can learn more about our Fair For All initiative by visiting www.fairforall.coffee.
This single farmer lot was sourced in partnership with Konga Trading Company an exporter and producer of our coffees from the Yirgacheffe region for over a decade. We purchased this coffee at $6.01 FOB and worked with Royal Coffee to import it into the United States.
On arrival, we scored this coffee 88.5 points.
We are proud to compensate our packaging team a Living Wage of $20.75-$23.00 per hour and our roasting team a Living Wage of $21-26 per hour at our roastery.